Typical Amount per serving
Dymatize® Super Protein Amino enthält ein Protein – Aminosäuren Profil, welches ein komplettes Spektrum an proteinogenen Aminosäuren bereitstellt. Diese essentiellen und nicht-essentiellenAminosäuren sind die Bausteine von Proteinen. Durch ihre handliche Größe sind die Tabletten leicht zu schlucken und erleichtern dir, über den Tag verteilt, eine einfache Bereitstellung von Proteinen unterwegs – ergänzend zu einer normalen Proteinaufnahme. Die tägliche Dosis besteht aus zwei Portionen.
Tagesdosis (= 6 Tabletten) enthält 5,8 g Protein
Liefert ein komplettes Spektrum an allen proteinogenen Aminosäuren
Handliche Größe und leicht zu schluckende Tabletten für unterwegs
Durch "Informed-Choice" auf verbotene Substanzen getestet, um sowohl die Sicherheit der Athleten als auch höchste Produktqualität zu gewährleisten.
| | | |
| --- | --- | --- |
|   | Pro Portion (3 Tabletten) | Pro Tagesportion (6 Tabletten) |
| Eiweiß | 2,9 g | 5,8 g |
Natürlicherweise enthaltene
und zugesetzte Aminosäuren

Pro Portion (3 Tabletten)
Pro Tagesportion (6 Tabletten)
L-Leucin
261 mg
523 mg
L-Isoleucin
139 mg
279 mg
L-Valin
173 mg
345 mg
L-Alanin
127 mg
253 mg
L-Arginin
204 mg 
408 mg
L-Asparagin & L-Asparaginsäure
278 mg 
555 mg
L-Cystein
39 mg 
77 mg
L-Glutamin & L-Glutaminsäure

555 mg 

 

1110 mg

Glycin
100 mg 
200 mg
L-Lysin
190 mg
379 mg
L-Histidin
74 mg
148 mg
L-Methionin
74 mg
148 mg
L-Phenylalanin
155 mg
310 mg
L-Prolin
185 mg
370 mg
L-Serin
155 mg 
310 mg 
L-Threonin
119 mg 
238 mg
L-Tryptophan
33 mg
65 mg
L-Tyrosin
141 mg
283 mg
Milcheiweiß (Milcheiweißkonzentrat, Calciumkaseinat, Molkeneiweißkonzentrat, Molkeneiweißisolat, micellares Casein), Erbsenprotein, Reisprotein, Füllstoffe: Cellulose, Calciumphosphate, Trennmittel (Siliciumdioxid), Polyethylenglycol, Talkum, Magnesiumsalze der Speisefettsäuren; L-Glutamin, L-Arginin Hydrochlorid, L-Leucin, L-Isoleucin, L-Valin, Emulgator (Lecithine) (Soja).
Bis zu 2 Portionen (= 6 Tabletten) täglich mit reichlich Flüssigkeit schlucken. 1 Portion (=3Tabletten).
Nahrungsergänzungsmittel sollten nicht als Ersatz für eine abwechslungsreiche und ausgewogene Ernährung sowie eine gesunde Lebensweise verwendet werden. Die angegebene empfohlene tägliche Verzehrsmenge darf nicht überschritten werden. Außerhalb der Reichweite von Kindern aufbewahren.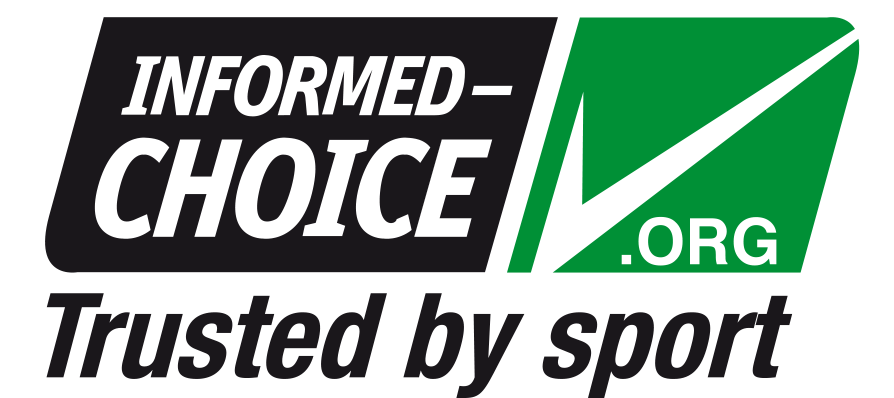 All Dymatize products which hold the Informed-Choice certification have been tested for banned substances by the world-class sports anti-doping lab LGC. In addition, Informed-Choice ensures that all products have been manufactured to high quality standards and are safer for athletes to use.